SOUTH END, BOSTON
Boston Real Estate, by Neighborhood
One of Boston's trendiest neighborhoods …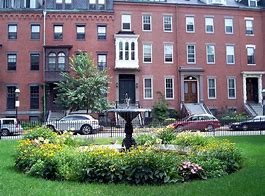 Description:
The South End is next to the Back Bay district and close to Beacon Hill and downtown Boston. It extends from Massachusetts Avenue on the west to Berkeley Avenue on the east, and north to south, from Columbus Avenue to Harrison Avenue.
Special Features:
The South End features the longest intact Victorian row house district in the country and is listed in the National Register of Historic Places. Today the South End is one of the more culturally diverse sections of the city, known for its incredible eateries, galleries, parks, playgrounds, and community gardens. The South End is home to the SoWa (South of Washington) Open Market and its many art galleries.
The South End's diversity includes young families, with its parks and schools, immigrants, and young professionals. The Boston Center for the Arts (BCA) and the school for the Boston Ballet are located in the neighborhood.
South End, Boston official site.
If you are considering buying, renting, or selling in the South End, please view our current listings or feel free to contact us via phone or email for expert information:
New England Premier Properties, LLC
617.903.0044 | info@NewEnglandPremier.com
99 Chestnut Hill Avenue, Suite 305 Boston, MA 02135