Cambridge, MA
Boston Real Estate, by Neighborhood
The "City of Squares" …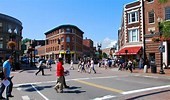 Description:
Cambridge is directly north of Boston, across the Charles River, in Middlesex County. The population is approximately 105,000 concentrated in about 7 square miles.
Features:
Cambridge is home to Harvard and MIT (Massachusetts Institute of Technology) two of the world's most prestigious universities. Cambridge is known as the "City of Squares," with each square acting as a neighborhood.
Kendall Square in Cambridge is referred to as the "most innovative square mile on the planet" due to the number of entrepreneurial start-ups and innovation.
Cambridge, MA official site.
If you are considering buying, renting, or selling in Cambridge, please view our current listings or feel free to contact us via phone or email for expert information:
New England Premier Properties, LLC
617.903.0044 | info@NewEnglandPremier.com
99 Chestnut Hill Avenue, Suite 305 Boston, MA 02135